There are too many PRODUCTS to sell on SHOPIFY. And as we've seen in the past couple of months, eCommerce has just blown up out of proportion. A virus seemed to accelerate the rate of growth of e-commerce in a pretty ridiculous way. And even though this is somewhere where we were planning on being in terms of growth, maybe one or two years down the line. It accelerated the growth to a couple of months now.
We're seeing more people shopping online than ever before, so there has never been a better time to start an e-commerce business, whether it be drop shipping or whether you have a product idea that you want to make, whatever it may be. Now is the time, and this is why today I want to present to you a bunch of potential products that you could start either a dropshipping store around or potentially a brand. All the products that I want to talk about will be products that I believe are worthy of being branded or worthy of starting a brand around, even if you already have some starting capital.
How that we're going to be validating these products is by looking at viral video ads on Facebook Because the fastest way to grow your business is through paid advertising. In fact, before this month, we saw some of the lowest costs ever, basically when it comes to Facebook ads. Even though there are tons of paid ad platforms, Facebook ads are my favorite, and most people I think are prioritizing for the most part. And now cos are starting to rise a little more as more brands go back to their standard advertising ways.
So like I said, there's not a better time to start an e-commerce business on Shopify than right now. I have made this article because I'm not like a test as many products as you possibly can type of mentality. I like the idea of finding something that you resonate with and that you can see yourself building a trustworthy business around.
Because if that's not your mentality at this point, then chances are you're just going to get buried by all the existing brands that are building legitimate businesses. I mean, this is a competition at the end of the day, and the best company wins. So it would help if you were in a mentality of okay, how can I build the best possible business.
So if you're the type of person that wants to build a profitable business and you love these kinds of articles, make sure you register with our weekly email subscription. That's all I ask. These articles take a long time to create, and I appreciate every one of you allowing me to add value to your life.
Now we'll talk about the product and why it works and the reason why I want to show you the video ads. Besides having the right product, the most important thing to succeed with your eCommerce business is creating video ads. If you have a great idea, you can't communicate it properly to your customers. It doesn't matter, you could have the best view in the world, but if you can't share it, it's not going to work. So let's begin with the first product.
1. Multifunctional Toothbrush Holder-
The first product here is called it's a multi-functional toothbrush holder. So let's take a look here.
Oswei nordic inspired multi-functional toothbrush holder, okay, so this is a pretty standard video ad, I like that part of it. So it's just like an organizer for your bathroom, and it's pretty cool. I've seen these sorts of products in the past, but I've never really thought to test them. And let's take a look at this site real quick.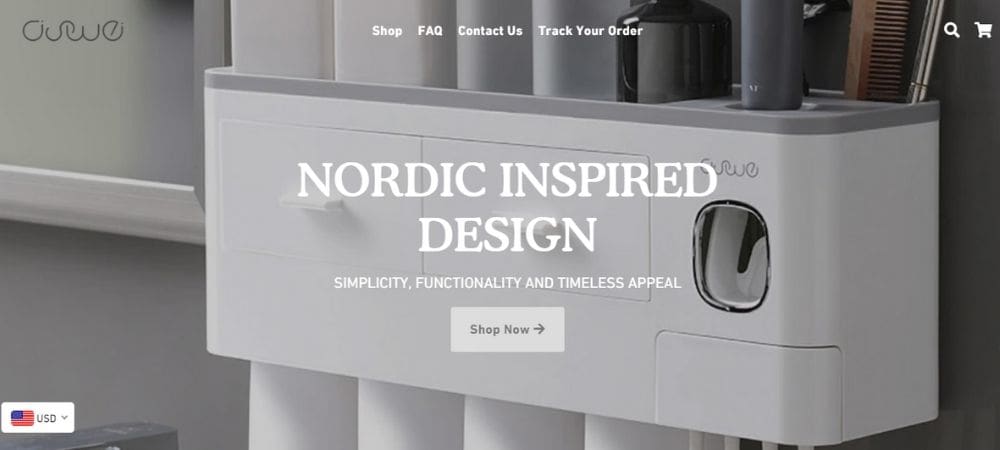 It is an excellent website a big part of a winning product has an excellent website. So if your website isn't branded and you know it's hideous. It's not going to do well either, and that's part of communicating your idea right. If you can't share your opinion effectively, then it's not going to work.
So as you can see, the private label this product. But I'm 100% sure that they didn't start this way. It is the sort of approach that I'm trying to teach you guys is to find a product that you believe in that you really vibe with, and then you could see yourself building a big business around.
I mean, this video has 1.3 million views. Well, this is at least a six-figure product.
2. Microphone-
Let's take a look at product number two.
I like this app so far; it's spotless and engaging. All this product is it's just like a little mic that attaches to your phone. You can get better audio when you record yourself on your phone. This video has 2.1 million pretty incredible views. Now let's look quickly look at the product page.
so as you can see, this site also privately labeled this product. I did take a look at their shipping, and their shipping is pretty slow. So they probably do drop ship from a fulfillment center. And yeah, this is a pretty cool product. As you can see, it's privately labeled, so as you can see, we found this product right away. All they did is private label this product. But I'm sure that since they're probably talking directly to the manufacturers, they're getting a much lower price. But still, you can get the idea, and I'm sure other potential products in this space may work just as well.
I think that this one looks modern, though, and that's why it's performing so well for them. But there are tons of other potential options that work similarly. This one is good. You should probably talk to a sourcing agent or aliExpress supplier themselves to see if they can give you a lower price. But this is a great product to sell potentially, and they've been able to make it a massive winner through their great ad.
I'm sure they got that custom made, and that's probably one of the reasons why it's doing so well. Let's get onto the next product.
3. Most Comfortable Earphones-
This product has 6.8 million views in about a month. So this is a current product, and it's being scaled exceptionally quickly, as you can see by the views. Let's take a look here.
so let's see, there's a big pain point right at the beginning. This product is mainly for sleep. Many people have a lot of trouble sleeping, and that's a huge issue. Something like this could help them by not irritating their ears while sleeping. And you're not running the risk of damaging your ears with big headphones. So this is pretty cool, and this is just your traditional dropshipping ad. this is an excellent ad, and it's pretty long.
So as you can see, this is also a private labeled product, which is pretty cool.
as you can see, their landing page is well done. I love this landing page, and I also love that they are pretty open about their shipping and delivery. So we're just going to look up headband speaker, and as you can see, we found it or right away. that was extremely easy, so this is the exact product, and as you can see, there are some great images as well. And they're touching $34.99 for this. which is a significant margin. If you consider the fact that this is only five dollars. So, that's a massive profit for a product like this, so I think this one is great and has many potentials to be branded right. You could go ahead and find other products similar to it to add to one store, like some sleep store. Let's look and another product here.
4. Wallpaper Panels-
Now let's move on to the next product. This one has 4.6 million views in three weeks. So this is another product that is being scaled insanely fast and has a ton of potential. Now I think this is from a brand. So it's a kind of wallpaper board or panel wall forms. I guess that is what they're calling them. They have a great video. It's got fantastic quality images, excellent quality content. It looks super modern, so great stuff.
Site SS Embed
Now, if we take a look at their site, yeah, they just have a ton of these products, and they're pretty expensive.
So let's take a look here. As you can see, they're wallpaper design products. And they sell it for the right margin from aliexpress. And you can try that too.
5. Agriculture Atomizer Nozzles-
Let's move on to the next product. As you can see, this one is called an atomizer. As you can see, this one is from February 2020, and it has 329 thousand views and almost 600 shares.
So that's pretty impressive. Let's take a look at the ad.
This ad isn't even that good. I mean, the text is pretty weak, but the clips are perfect. This looks like a pretty convenient product look. I mean, they're hiding their watch. They're hiding the watermark. Their site looks spammy.
Site screenshot embed
so when we look up atomizer nozzle. And as you can see, this is pretty cool because it comes with some footage that they used. This is excellent footage.
So this is a great product, and they sell it for $24, okay. So that's pretty cheap on aliexpress. It's $12. that's a slim margin. But you know, if you have a sourcing agent, you can always try to negotiate a lower price, but yeah, that's another excellent product.
6. Jelly Wax DIY Waxing-
The next product is this jelly wax thing and has 2.3 million views, and it's from May 2020 and almost 600 shares. So this is really okay. But let's see if we can find it, okay.
So if you see this product on aliexpress, that's just some beans. That you can meet and actually this looks like an excellent product packaging which is really important, and it seems to have a ton of orders. So this is pretty cool. I never really thought of something like this, but the beauty niche is extruded.
It's one of the biggest ones out there and one that has the most impulse buyers, honestly. So this is definitely a good potential product. I would make sure that this actually does work. Well, first, so maybe it's a good idea if you tricked for you to order a sample because there could be liability issues when it comes to something like this. But this could be very easily branded, in my opinion. And as long as you know that this product works really well, I think it's an excellent potential option.
7. Identity theft protection stamp-
Now, this next product is almost from march 2020. it's almost at a million views, but it has a ton of shares, and it's a protect it's called an identity theft protection stamp. So this is pretty interesting it has a big WOW factor in the font. This video is terrible, so you could easily make something better than this.
Identity theft protection stamps so that was extremely easy to find, and it's only five dollars. so this is actually a really cool product, and I've actually never seen this before. I think this is actually a really cool product that could be really useful for many people. It can be easily private labeled, so this is actually an excellent potential product.
8. Cooling Blankets-
Now, this video has 740+ thousand views somehow and over a thousand shares. It really doesn't say anything. This is such a simple video ad.
I can't believe that this works so well. So there's tons of cooling blankets out there. As you can see, there are many cooling products, even honestly and in the summertime. It's scorching in many places. These are actually excellent potential products to build a brand around, and you know some of these have such good product images. I really love these product images, and that's actually a product that you could easily beat the competition on because their video ad is not even good.
9. Mini Greenhouse-
Okay, so this next video has a ton of shares, and it only has 250 thousand views. But it's a relatively new product, and it's a weather protection thing for plants. So it's just called a portable greenhouse.
I guess so. As you can see, this is a pretty high ticket product, but it's a perfect one, especially for the summer, and it's since many people are staying at home now and probably building their own gardens. This actually has some huge potential, and in Aliexpress, you can find a lot of them do ship fast.
So something like this is actually really cool. This is like a different variation of that, obviously. But do some research, I saw many products like this are mainly take many efforts, and if one thing goes wrong, You will get a lot of negative reviews.
10. Nebula Lamp-
Now, this next one is actually really cool. It's this nebula lamp. I really love this product. I mean, it doesn't solve any problem or anything. But it just has such a big wow factor. And I think you would really resonate with young people, especially on tik-tok or Snapchat.
So this is definitely something that you could test with Snapchat ads or something like that. So yeah, there are tons of these products out there. I mean, there are tons of different variations, and I think this is the one that we just looked at, but there are tons of other ones that you could also sell, and these are really cool.
I do want to show you guys products that I think are worth dropshipping because they're worth building a brain around, and if you're testing products that you're not thinking of selling long term, then it's not necessarily the best idea to sell them now so hopefully that makes sense to you.
But if you are starting and have a tight budget, I suggest you start with Etsy and then scale with both Shopify and Etsy. Click here for your complete guide.
GOOD LUCK
PRODUCTS to sell on SHOPIFY PRODUCTS to sell on SHOPIFY PRODUCTS to sell on SHOPIFY PRODUCTS to sell on SHOPIFY PRODUCTS to sell on SHOPIFY PRODUCTS to sell on SHOPIFY PRODUCTS to sell on SHOPIFY PRODUCTS to sell on SHOPIFY PRODUCTS to sell on SHOPIFY PRODUCTS to sell on SHOPIFY PRODUCTS to sell on SHOPIFY PRODUCTS to sell on SHOPIFY PRODUCTS to sell on SHOPIFY PRODUCTS to sell on SHOPIFY PRODUCTS to sell on SHOPIFY PRODUCTS to sell on SHOPIFY PRODUCTS to sell on SHOPIFY PRODUCTS to sell on SHOPIFY