Hey guys Dean here. Today in this article I will tell you how you can start your Affiliate Marketing business without even a website.
As you are here reading this article, I suppose you already know what is affiliate definition. But in case you don't know then let me first tell you what affiliate marketing is and why should you start it.
What is Affiliate Marketing?
Affiliate Marketing is a process in which you promote products and get some per cent of commission on every sale you make.
Probably you already done that before in an app or in any service you like-
Let me give you an example When you see refer and earn on any app. That is affiliate marketing, and when you send your code to your friend to join with your referral code to get a commission.
How Affiliate Marketing works-
In a business level you can do affiliate marketing and earn quite good amount, Their are Mostly 4 steps to start affiliate Marketing
Find a Product
Make a Landing Page
Drive Traffic to Landing Page
Retargeting
1. Find a Product—
So As I gave you an example of referring an app or service to your friend, and if he registers through your link. You get a commission.
But if you are doing it business level then there are many platforms where you can find tons of affiliate products. Which you can promote.
These Websites are—
and many more…
On these platforms you have to make an account, then select an affiliate program you want to promote (within your Niche) and you get an affiliate link.
After that you have to promote it to your audience through your website, Social media or other platforms.
By the way the most popular platform among affiliate marketers is CLICKBANK.
2. Make a Landing Page—
The next step is to make a landing page, which can be a Review article on your Blog website or a well-optimized Landing page made with click funnels.
Now you might think why would I need a landing page?
So my friend, the problem is you can't send traffic (your audience) to payment page. Google, Facebook and other big platforms don't allow that (flagged it as a spam). You have to have a Bridge page to link between your audience and affiliate offer.
That is why you need a website or a program like CLICKFUNNELS.
3. Drive Traffic to Landing Page—
That is the main part.
You selected a product, made a well-optimized landing page, But if you can't drive traffic then it is like a beautiful shop in a deserted area. Which has no customer to sell.
Yes, you can use paid traffic like facebook ads, Google ads but in the beginning they are waste of money and time.
Because you will not have enough resources and experience to use it properly.
4. Retargeting—
This is the most ignored step in affiliate marketing.
In this step you retarget people who were interested in your offer.
They might exited on payment page or signed up for your email list.
To do so you must install facebook pixel to your landing page.
But the biggest question, for which you are here is—
How to make money with affiliate marketing without a website?
Making a website and maintaining it properly is not that easy.
That's why most people wants to do affiliatewp marketing without any website.
To do so you have another option called Clickfunnels, which is quite expensive.
So there is another option called 12 minute affiliate, in which you can start your affiliate marketing within 12 minutes.
Which cost around $10 (front end).
This system is made by Devon Brown, Who is an Internet entrepreneur and well known for FHL in ClickFunnels.
Affiliate Marketing how to start
To start Affiliate Marketing with 12minute affiliate, You just have to go through a few easy steps
Step #1: Create A Free Affiliate Account within 2 Minutes
This is a straightforward step. In this step, you have to create a CLICKBANK affiliate account so that you can promote a product as an Affiliate Marketer by promoting it, making sales, and finally Earn commission from that sale.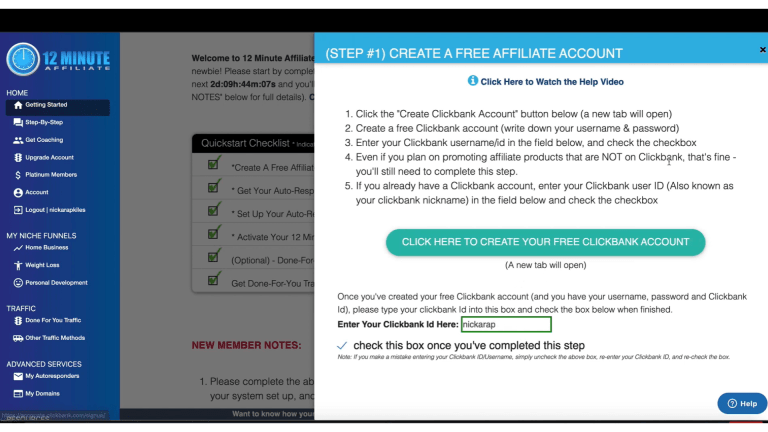 It is like opening a Facebook account, and if you already have a Clickbank account then you can skip this step to the next step-
Step #2: Get your Auto-Responder within 2 Minutes
Now let me first tell you what is an Auto-Responder?
Auto-responder is a tool that allows you to send automated emails to your subscribers without sending them manually.
Because there would be a ton of emails you have to send and if you are doing it manually is too much time-consuming.
Software endorsed by the 12 Minute Affiliate system is AWeber.
Devon provides this software free for the first 30 days, But after that, you'll need to buy it by yourself for $19 per month (for 500 subscribers).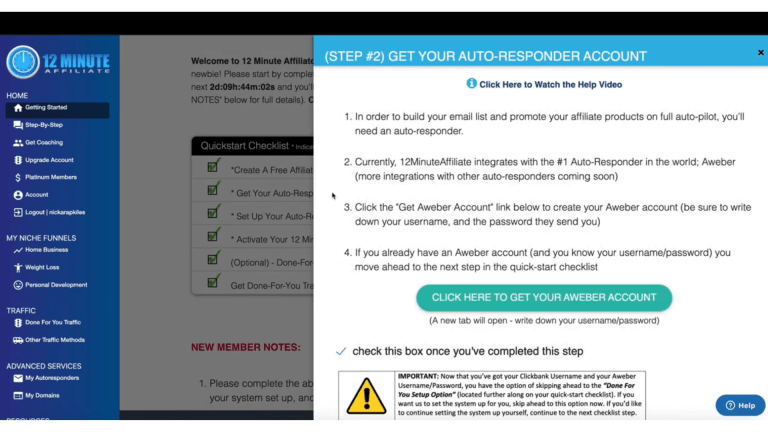 But it can outsource a lot of work.
And if you see via affiliate business point of view, you will find that most people (who have 500 email subscribers) earn $1 for an email subscriber. That means you can earn at least $500 per month, depending on the quality of the email list.
But if you don't want to use AWeber then you are free to use and integrate an autoresponder of your choice.
Step #3: Set up your Auto-Responder within 2 Minutes
Now in this step you'll be loading email swipes to your Email Autoresponder.
In 12 Minute Affiliate System, You'll get 80 swipes that you can simply upload to your account easily, and you are good to go.
In AWeber, you will be able to auto-generate emails with your own affiliate links and then have them sent to subscribers on a daily basis.
Just Like- Email #1 — On Day 1
Email #2 — On Day 2
Email #3 — On Day 3 and so on.
Step #4: Activate your 12 Minute affiliate Funnels
As shown below, you'll be placing your affiliate ID (depending on the niches you choose) in this step. There are many funnels are already added to your account, and you will not need any sales funnel or third party software like Clickfunels
You can choose any (already made) template shown in the library to promote various products in the different niches you choose.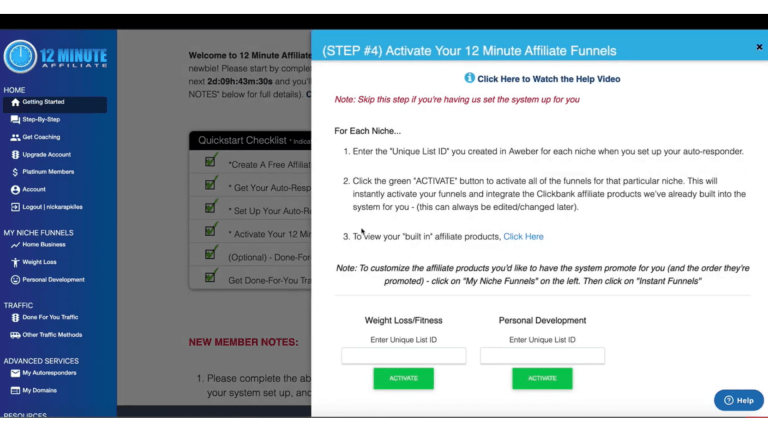 BTW if you don't have much time, then you can pay to play. They have a Done For You setup that is helpful.
Step #5: Get Traffic
In this step you have two ways to get traffic to your affiliate offer.
First, Get traffic by traditional methods like web forums, SEO, YouTube, and other Organic methods, which takes time. and
Second, You will get this E-book with training for the traffic.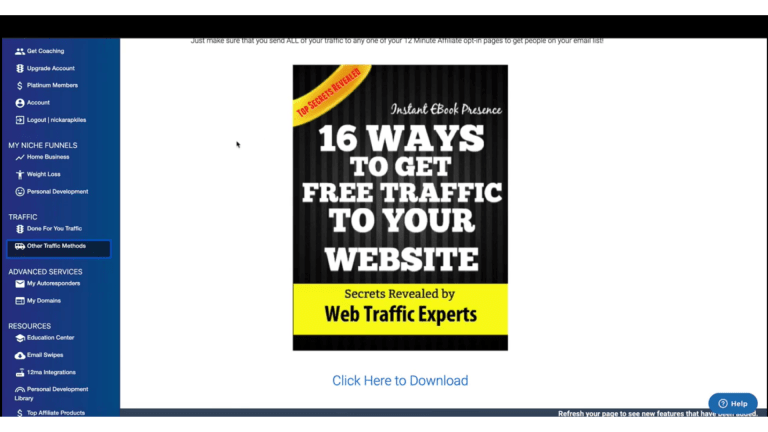 But Let me breakdown second way of getting traffic
Can you trust it blindly???
Answer is No…
In any online business the main thing is Traffic, Or we can say Quality Traffic.
It is like you have a beautiful shop and no customer then it is worthless.
Now in a second way, you are doing Paid traffic. You'll be buying clicks, and they'll set up everything for you. Depending on your industry, it can cost anywhere from $1 per click to $3 per click or more.
Now let's calculate, if you pay $100 for 100 clicks then you can't make everyone buy your product, Maybe 25-30% might convert into buyers ( sometimes only 2 to 5%)
and if you have low ticket product worth $50 and you spent $200 for 200 Clicks and only 15 converts
which means $50*15 =$750
Means $750 – $200= $550 Profit
So as you see you have to think like a complete businessman, How much to spend on Traffic or you are going for organic traffic.
Be careful, and use organic traffic in the beginning, and after some testing, you can go for Paid traffic.
Where should you go from here?
Now In my opinion 12 minute affiliate is legit.
But if you think this can make you millionaire overnight then sorry my friend this can not.
Yes it could be your first step towards your Financial Freedom, you will be confident that you can earn online.
So I would suggest to try out this program. It's less than your Star Bucks coffee.
But even you are not sure then Check out my 12 minute affiliate review
or you can be get your 12 minute affiliate system here